[osd_social_media_sharing]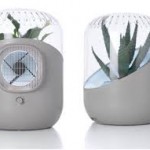 The Benefits of Using Air Filters
With the New Year upon us, many people have made resolutions to improve their health with things like  eating  clean and exercising  more.   However, people often tend to ignore the quality of their indoor air.   It is important to ensure the air we are breathing at home is safe and free of any harmful particles that can create allergies or other respiratory problems. Using an air filter, can help to ensure the air you are breathing is as clean as possible.  Here are the benefits of using air filters in your home.
Remove Impurities From The Air
From the Name alone it isn't difficult to understand how air filters work. They filter out impurities in the air in order to make your indoor air cleaner.  Very few people are actually aware that indoor air pollution even exists, and in fact is a leading trigger to respiratory problems.   Air filters can help by maintaining the quality of the indoor air and eliminating air problems such as mold and other harmful particulates that can create  problems among people with  respiratory problems.
Remove Allergens
Certain air filters are specifically designed for people with severe allergies and asthma. These air filters are designed to trap any tiny particles that may cause allergic reactions, especially with people suffering from asthma.  Allowing them to breathe indoor air that is cleaner and  without  allergens that could trigger an asthma attack.
Improve Cardiovascular Health
Regular exposure to air pollution can put individuals at risk of cardiovascular disease. Therefore it makes sense to install air filters to ensure you mitigate exposure to air pollution especially when indoors.
Odour Removal
Some air filters can remove pesky odors from the air. Keeping the air smelling fresher without the use of air fresheners alleviating indoor air pollution. There are also air filters that can remove second hand smoke from the air.
While air filters alone cannot reduce allergies or asthma attacks within the home, they can help alleviate some of the problems.    Additionally as noted above, there are many benefits of using air filters in your home, if for no other reason simply improving the air quality within your home should suffice.
(Visited 146 times, 1 visits today)