[osd_social_media_sharing]
What makes a 'green' home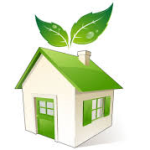 With education available to teach us the dangers of formaldehyde off gasses, volatile organic compounds (VOC's) and other mold and fungal particulates that put a burden on our indoor air quality. Many of us are now wondering what makes a 'green' home?
Firstly, the origin of a 'green' building has an exact definition that many builders still adhere too. A true 'green' building starts at the construction phase and includes the entire building process.  Here are six elements that need to be considered before tagging a property as 'green'.
WATER Green buildings conserve water as much as possible through water-saving appliances like dishwashers, showerheads, efficient toilets, washing machines and low-flow faucets.  Outside landscaping may be drought- tolerant or require little water.  Some buildings may also collect and use rainwater or gray water.
ENERGY efficient gets the most attention because of energy costs and carbon dioxide produced by buildings. Energy efficient buildings reduce the amount of energy used by lights, appliances, hot water, heating and cooling and involves many systems working together.  This maybe include a well insulated building envelope, efficient heating and cooling systems and Energy Star appliances.   Another source of renewable energy could include solar panels and ground source heat pumps.
SITE Planning and development in the initial design phase can promote 'green' living. Green site planning usually protects and even restores local habitat and maximizes open space.  Buildings may be located within walking distance to shopping and transportation.  As well as take advantage of solar access, shading and wind.  Wetlands are strongly avoided when it comes to living 'green'.
MATERIALS When it comes to 'green' building, builders balance various traits of the materials used in order to minimize resource consumption, increase durability and use energy efficient materials. They consider things like what it is made of, where and how it is manufactured, and how far it has to travel.
INDOOR AIR QUALITY In order to maintain healthy indoor air, building systems may manage moisture, minimize off gasses and vent combustion appliances properly. This can be achieved by using low or non VOC products, natural mechanical ventilation systems, air filtration and closed combustion appliances.
OPERATIONS AND MAINTENANCE Green builders recognize that 'green' doesn't stop when the last nail is hammered in, but rather is an ongoing process. Occupant behavior can have an effect on resource consumption, so it is recommended that the occupant control energy usage and keep up with maintenance on things such as thermostats, water saving fixtures and efficient appliances.
So, if you are wondering what makes a 'green' home, talk to the builder, architect or seller to determine which of these elements have been included in the home. Additionally some homes are 'green' certified through programs such as Leadership in Energy and Environmental Design (LEED), Net-Zero, the Living Building Challenge, Energy Star and more.
(Visited 308 times, 1 visits today)